McKinsey & Company: Seizing Opportunity In Today's Construction Technology Ecosystem
A new analysis of the construction technology ecosystem finds emerging trends, constellations of solutions, and an ever-increasing universe of technology use cases that are disrupting the way we plan, design, and execute projects.
By Jose Luis Blanco, Andrew Mullin, Kaustubh Pandya, Matthew Parsons, and Maria Joao Ribeirinho.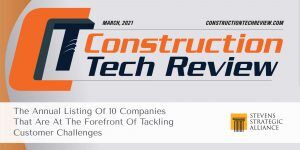 |
The annual listing of 10 companies that are at the forefront of tackling customer challenges Stevens Strategic Alliance, ...