McKinsey & Company: Decoding Digital Transformation In Construction
Few engineering and construction companies have captured the full benefit of digital. Five practices can help E&C companies move beyond isolated pilots and unlock digital's value across their enterprises.
By Jan Koeleman, Maria João Ribeirinho, David Rockhill, Erik Sjödin, and Gernot Strube.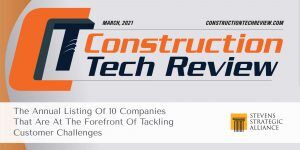 |
The annual listing of 10 companies that are at the forefront of tackling customer challenges Stevens Strategic Alliance, ...